Baked Pasta With Spinach, Lemon and Cheese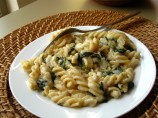 Photo by WiGal
Prep Time: 15 mins
Total Time: 1 hr 5 mins
Servings: 6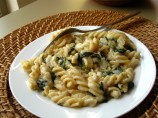 Photo by WiGal
About This Recipe
"This was in cooking Light. The dish sounds yummy even though it does not have any meat in it. Enjoy!"
Ingredients
10 ounces fusilli

5 ounces fresh Baby Spinach

1 tablespoon olive oil

4 cups chopped onions

1 1/8 ounces flour, about a 1/4 cup

4 garlic cloves, minced

2 1/2 cups 1% low-fat milk

1/2 cup dry white wine

1 cup grated parmigiano-reggiano cheese, divided

3/4 teaspoon salt

1/4 teaspoon grated lemon rind

1/2 teaspoon pepper

3/4 cup panko breadcrumbs, divided
Directions
Preheat oven to 350 degrees.

Cook pasta in boiling water for 8 minutes or until almost al dente, omitting salt and fat.

Remove from heat; stir in spinach. Let stand for 2 minutes or until spinach wilts. Drain pasta mixture well.

Heat a large nonstick skillet over medium heat. Add olive oil to pan; swirl to coat. Add onion; cook 15 minutes or until golden brown, stirring frequently.

Weigh or lightly spoon flour into a dry measuring cup; level with a knife. Add flour and garlic; cook 1 minute, stirring constantly with a whisk.

Gradually add milk and wine; cook 8 minutes or until sauce boils and thickens, stirring constantly.

Stir in 3/4 cup of cheese, salt and rind. Remove from heat; stir in pepper.

Add pasta mixture, and toss gently to coat.

Spoon pasta mixture into a 13x9 inch-glass or ceramic baking dish coated with cooking spray.

Sprinkle half of panko breadcrumbs over pasta, and top evenly with remaining 1/4 cup cheese.

Sprinkle the remaining half of panko breadcrumbs over cheese.

Bake at 350 for 50 minutes.