Wheat 'n Yogurt Bread for Bread Machine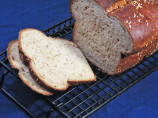 Photo by Kerfuffle-Upon-Wincle
Prep Time: 10 mins
Total Time: 3 hrs 10 mins
Serves: 8, Yield: 1 loaf (2 lb)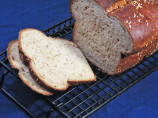 Photo by Kerfuffle-Upon-Wincle
About This Recipe
"This is my go-to recipe for my bread machine. I make a couple loaves every week. The recipe came in the booklet along with my machine...I wish I could find that booklet but luckily I wrote the recipe down. Since I'm messy with flour, I like to only measure these ingredients occasionally. I like to measure out all the dry ingredients, except the yeast, and store in a gallon-size baggie in the freezer. I make all at once about 6 baggies, so when I want to make a quick loaf before I go to bed, I just have to add the water, yogurt, my baggie of dry ingredients, the butter, and yeast. It's SO convenient."
Ingredients
1 1/8 cups water

2/3 cup plain nonfat yogurt

1 1/2 cups bread flour

2 3/4 cups whole wheat flour

2 tablespoons dry milk

2 tablespoons brown sugar

1 1/2 teaspoons salt

2 tablespoons butter ( or margarine)

2 1/4 teaspoons active dry yeast ( or 2 tsp Bread Machine yeast)
Directions
Follow your breadmaker's instructions regarding how to add ingredients. My breadmaker requests me to do the following:.

Add liquids to the bread pan first, then dry. Level the dry; quarter the butter and add to corners. Make an impression in the center of the dry ingredients and add the yeast.

If bread collapses during the baking period, next time add 1 or 1 ½ tablespoons vital wheat gluten to the recipe to prevent from happening again.

I set my bread maker to 'whole wheat', 'light crust', '2 lb loaf'.