Creamy Vegan Potato Salad Recipe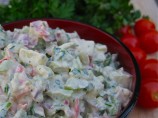 Photo by The Blender Girl
Prep Time: 5 mins
Total Time: 15 mins
Servings: 4-6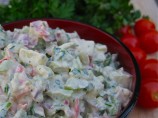 Photo by The Blender Girl
About This Recipe
"I recently shared this potato salad with my friends Kris, Michelle, Emily, Nicole, and my father-in-law, Bob; and the reaction was unanimous–"Oh Wow! I could eat this salad every day. This is a keeper. You need to put this on your site!" At the risk of appearing unashamedly self-congratulatory, I have to agree with my discerning friends. This potato salad has a creamy yet crunchy texture, with a zesty flavour that strikes a nice balance between sharp and sweet. It's a wonderful example of how this quick raw vegan mayonnaise can act like the little black dress in your culinary wardrobe. With the right accessories —some fresh crisp vegetables and the right amount of sea salt and cracked pepper —the simple becomes the sublime, and this little potato dish is dressed to impress. Snouts far and wide agree —this recipe is a stunner, a winner, and not to be missed."
Ingredients
8 medium red potatoes, largely diced ( or cut into cubes)

1 cup green onion, finely chopped ( about 1 bunch)

1 cup red bell pepper, finely diced ( capsicum, about 1 medium pepper)

1 cup celery, finely diced ( about 4 large ribs)

1 cup broccoli, stalk chopped finely ( slaw)

1 cup about 1 bunch flat leaf parsley, finely chopped

1/2 cup about 1/2 medium finely chopped red onion

1/4 teaspoon cracked pepper, to taste

1/4 teaspoon celtic sea salt

raw vegan mayonnaise

1 cup organic raw cashews ( soaked for 2 hours)

1/4 cup extra virgin olive oil

1/4 cup raw cauliflower

1/2 cup filtered water

3 tablespoons lemon juice ( to taste)

2 1/4 tablespoons organic Dijon mustard

1 teaspoon agave nectar

1 1/2 teaspoons apple cider vinegar

tiny 1/2 pinch of celtic sea salt ( to taste)
Directions
Place the potatoes in a large pot and cover them with cold filtered water.

Add 2 Tbsp of Celtic sea salt to the water and bring to the boil.

Simmer for about 10 minutes or until just done.

Rinse them with cold water and drain thoroughly.

Transfer the potatoes to a mixing bowl and combine with all of the chopped vegetables (except the parsley).

To Make Dressing:.

Put the cashews and cauliflower in a food processor, and add the water until combined well.

Slowly add the oil in one steady stream, and process until thick and creamy.

Place the rest of the ingredients into the blender to taste, and process until smooth.

Add in some more salt, mustard or lemon juice to taste until you create your perfect blend.

**Please note – you will need a high speed blender such as a VitaMix.

or BlendTec, in order to achieve a really creamy consistency.

Pour the dressing over the vegetables and mix thoroughly.

Stir through the parsley, and then season with Celtic sea salt and black pepper to taste.

Chill or serve at room temperature. YUM!