Chinese Hot Pots--Gluten-Free and Low-Carb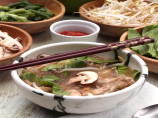 Photo by spicyperspective
Prep Time: 10 mins
Total Time: 25 mins
Servings: 6-8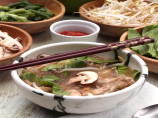 Photo by spicyperspective
About This Recipe
"Classic Chinese hot pots are a method of making soup in which you gently cook raw veggies in your serving bowl by pouring hot broth over the top, and allowing them to steep. Hot pots are a fun interactive meal that allow each individual to personalize their bowl with favorite ingredients and spice."
Ingredients
6 cups chicken stock

6 cups water

1/2 cup rice vinegar

1/3 cup soy sauce

1 1/2 tablespoons sesame oil

3 -5 slices fresh ginger

3 -5 garlic cloves, cracked

1 lb boneless chicken thighs, thinly sliced

5 ounces bean thread noodles

1 large bunch green onion

1 1/2 cups mung bean sprouts

8 ounces mushrooms, any variety

4 baby bok choy

garlic and red chile paste
Directions
In a large pot, bring the chicken stock, water, vinegar, soy sauce, sesame oil, ginger and garlic to a boil.

Add the chicken and simmer for 5-7 minutes, until just cooked through. Add the noodles. Stir, then cover and remove from heat.

Meanwhile chop all the veggies and place in serving bowls.

When ready to serve, allow each person to fill their bowls with fresh vegetables and a bit of chile sauce.

Then ladle the scalding hot soup over the veggies and let them sit for 5 minutes.

Mix and eat!