Vegan Nutritional Yeast and Tvp Veggie Burgers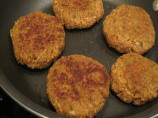 Photo by magpie diner
Prep Time: 10 mins
Total Time: 25 mins
Serves: 4-6, Yield: 4.0 patties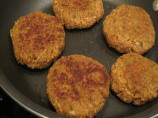 Photo by magpie diner
About This Recipe
"From the Red Star Nutritional Yeast cookbook, these look yummy and use ingredients I have around my house that are cheap! (Even though the nutritional yeast isn't the main star in this!) I didn't know what granules were, so I used onion and garlic powders in 1/2 tsp each and they turned out fine. Because these patties use flour and oats, they are not gluten-free but they do lack eggs and dairy and are purely vegan. TVP and nutritional yeast are wonderful sources of protein and are inexpensive with long shelf life, making them perfect vegan staples! Us veg-heads shall not be left out during BBQ season!"
Ingredients
1 cup textured vegetable protein

1/4 cup quick-cooking rolled oats ( NOT instant according to the cookbook)

1/2 teaspoon dried oregano

1/2 teaspoon dried basil, flakes

1/2 teaspoon dried parsley flakes

1/2 teaspoon onion, granules

1/2 teaspoon garlic granules

1/4 teaspoon mustard powder

3/4 cup water ( almost-boiling)

2 tablespoons organic ketchup

2 tablespoons soy sauce ( or tamari or Bragg's)

1 tablespoon creamy peanut butter ( can also use tahini, or any other nut or seed butter)

1/4 cup whole wheat pastry flour

1 tablespoon nutritional yeast
Directions
Place the water into a bowl and add the oregano, basil, parsley flakes, onion, garlic granules (or powders), and mustard powder with the oats and TVP chunks, and mix well.

Add the ketchup and soy sauce to the mixture, and let rest for 5 minutes so the TVP can soak up the flavors.

Add the nut/seed butter and incorporate.

Add the whole-wheat pastry flour and nutritional yeast, and mix thoroughly.

Form about 4-6 flat patties by hand (or about 8-10 if you want slider size!).

Put a heavy-bottom skillet on medium heat and add a light coating of high-smoke point oil like grapeseed, canola, or olive oil and cook each patty for about 5-8 minutes on each side or until golden brown.