Sopa De Garbanzos (Chick Pea Soup)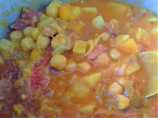 Photo by threeovens
Prep Time: 15 mins
Total Time: 2 hrs 15 mins
Servings: 4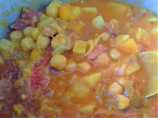 Photo by threeovens
About This Recipe
"My husband's favorite way to flavor beans is with pigs' feet. I kid you not. Actually, they flavor the beans very well. He eats the meat, I do not. We use them with kidney beans always. This recipe is translated from "Cocina Criolla" by Carmen Aboy Valldejuli, originally published in 1954 in Spanish. My husband calls it the Puerto Rican Cookbook. Times do not include overnight soaking of the beans. NOTE: If using salted pigs feet, they should also be soaked overnight, in a separate bowl (and rinsed and drained)"
Ingredients
1/3 lb dried garbanzo beans, soaked overnight in 4 cups salted water

1 lb pig's foot

1 slice bacon, chopped

1 ounce ham, chopped

1 chorizo sausage or 1 sweet Italian sausage, cut into 1/2 inch rounds

1/4 cup green pepper, chopped ( about 1/3 a pepper)

1/4 cup red pepper, chopped ( about 1/3 a pepper)

1/2 cup onion, chopped ( about 1/2 a medium onion)

1 garlic clove, minced

6 cups water

1/2 lb pumpkin or 3/4 lb butternut squash, peeled and diced

2 fresh cilantro stems (leaves and stems) or 2 fresh parsley sprigs, chopped ( leaves and stems)

1/2 lb potato, peeled and diced

1 lb cabbage, chopped

1 tablespoon tomato paste

kosher salt, to taste
Directions
Drain beans and set aside.

In a large Dutch oven (or pressure cooker), over medium heat, brown bacon to render some fat; add ham and sausage and brown them a little as well.

Add peppers and onion; saute until onion is softened, about 5 minutes.

Add garlic and saute a minute or so.

Add water, pumpkin or squash (okay, pumpkin is squash), cilantro or parsley, potatoes, and cabbage; stir in tomato paste.

Return pigs feet and add beans to pot; cover and cook 1 1/2 hours (if using pressure cooker - 1 hour).

Open pot, taste for salt and add, if necessary.