Sheila's Pepper-Crusted Prime Rib With Horseradish Sauce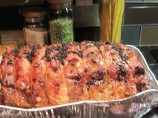 Photo by Everjanet
Prep Time: 15 mins
Total Time: 2 hrs 10 mins
Servings: 12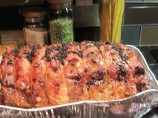 Photo by Everjanet
About This Recipe
"This main course is as simple to prep as it is show-stopping and, most importantly, it gives you time to enjoy the company of your guests."
Ingredients
1 (7 lb) beef rib roast, chine bone removed ( approximate size for 4-rib roast)

8 garlic cloves, thinly sliced

2 tablespoons Worcestershire sauce

2 tablespoons cracked mixed peppercorns or 2 tablespoons cracked black peppercorns

2 teaspoons kosher salt

1 1/2 teaspoons garlic powder

1 1/2 teaspoons dried thyme

1 head garlic

1/2 teaspoon olive oil

1/2 cup reduced-fat sour cream

1/2 cup heavy cream or 1/2 cup whipping cream

1 (8 ounce) jars prepared horseradish, drained ( 1 cup)

table salt

pepper

fresh herb, for garnish
Directions
About 1 hour before roasting, remove the prime rib from the refrigerator and let come to room temperature. Preheat oven to 500 degrees. Place rib roast, fat side up, on rack in 14x10-inch roasting pan.

Make small slits all over the prime rib and insert a slice of garlic in each slit. Using a fork, poke holes in roast and then rub roast with Worcestershire sauce. Mix together cracked peppercorns, kosher salt, garlic powder, and thyme and then rub all over roast.

Cut top third off head of garlic, keeping top and bottom intact. Drizzle oil over cut sides and place garlic top back on bottom. Wrap tightly in foil.

Place rib roast in oven and immediately turn oven down to 350 degrees. Place garlic on oven rack next to rib roast. Remove garlic after about an hour, then remove from oven, unwrap, and let cool. Roast beef until meat thermometer inserted into thickest part of meat (not touching bone) reaches 135 degrees (this is about 18-20 minutes per pound). Internal temperature of meat will rise to 145 degrees (medium-rare) upon standing. Or, roast until desired doneness. Transfer to large serving platter; cover loosely with foil and let roast stand 15 minutes for easier slicing.

Meanwhile, in medium bowl, with wire whisk, whisk sour cream and heavy cream until soft peaks form. Into small bowl, press soft roasted garlic from each clove; discard skin. Add horseradish to garlic and mash together with fork. Fold into cream mixture. Stir in 1/4 t. table salt and 1/4 t. freshly ground black pepper. Spoon into small serving bowl.

To serve, garnish platter with fresh herbs. Serve sauce alongside beef.