Spicy Authentic Moroccan Salmon - a Taste of Casablanca!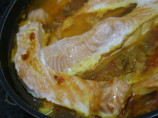 Photo by P.Doze
Prep Time: 7 mins
Total Time: 37 mins
Serves: 6, Yield: 6 pieces of Salmon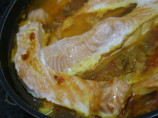 Photo by P.Doze
About This Recipe
"When I got married at the age of 21, I could barely make toast, let alone a WHOLE meal! My sister always told me 'but it's so easy!' and I obviously didn't believe her. One frantic evening, when I've procrastinated all day about what to make for dinner, I call my sister for advice. This is when she told me the 'secret recipe' that she learned from my grandmother who was born and raised in Casablanca, whom learned this recipe from HER grandmother. My husband loved it that night, and I make it on a weekly basis for Shabbat. We've had guests who don't even like fish who went crazy about this! You won't regret it.. Serve with rice, Mediterranean salads, humus and pita! Be'teavon! Just a few notes.. I wrote the serving size as 6, but when we have guests, almost no one eats a whole piece of salmon, I've probably served about 9 people with this. All I know is that I always have leftovers, and I've had some hungry guys over! This recipe can be done with any fish, just note that the cooking time is different. I've made this with Tuna and Sole, and it came out great! *Chilli Peppers can be VERY spicy! Use your instincts. Cut it open, smell it, and depending on your reaction is how I would add. For example, if I feel my eyes watering and burning, I take out the seeds. We like spicy, but not burn-your-mouth-so-bad-you-can't-taste-it. Also, wash your hands VERY well afterwards. I almost always forget and end up burning my eyes and face. Use gloves perhaps. Please be careful and enjoy!"
Ingredients
1 teaspoon canola oil

1 red bell peppers or 1 orange bell pepper, chopped

1 big tomatoes, chopped

1 teaspoon salt

1 teaspoon ground pepper

1 teaspoon turmeric

6 pieces salmon, fresh or 6 pieces salmon, thawed

1/2 cup water

1 green chili pepper, cut into strips ( for especially spicy peppers, take out the seeds for a lighter spice)

1/4 cup fresh parsley, finely chopped

7 garlic cloves, pealed and whole ( or to your taste)
Directions
On High heat, sauté the bell pepper in the canola oil until semi-soft. Add the tomato, and sauté for another 3 minutes.

Add the salt, pepper, and turmeric to the vegetables, and stir.

Coat the pieces of Salmon with the spices by placing each piece in the pan, flipping them, and leave them on top of the vegetables.

Lower the heat to medium, add enough water to cover the vegetables and salmon half way (about ½ cup).

Place the parsley on top of the salmon, and add the garlic and chilli peppers to the water.

Cover half way, and cook for 30 minutes or until the water lowers and becomes more of a sauce, and the fish turns a light pink.