Fred's Green Chile & Chicken Enchiladas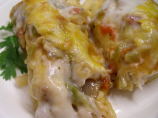 Photo by Bayhill
Prep Time: 1 hr 30 mins
Total Time: 2 hrs
Servings: 6-8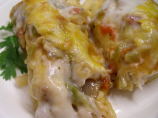 Photo by Bayhill
About This Recipe
"This is a great recipe for chicken enchiladas. I got this recipe several years ago when I worked with a local celebrity chef, and this is his recipe. I have however, made some necessary changes to make it not so high in fat. And 1 enchilada will fill you up!"
Ingredients
3 -4 cups shredded cooked chicken

2 tablespoons butter or 2 tablespoons margarine

1 medium white onion, chopped

1 -2 garlic clove, pressed

1 (8 ounce) cans of chopped green chilies

1 (8 ounce) cans whole green chilies, sliced in thin strips

1 green bell pepper, finely chopped

5 tomatoes, skinned and chopped ( I don't remove the skin when I don't have the time)

2 tablespoons fresh cilantro

1 cup chicken broth

1/8 teaspoon cumin

12 large flour tortillas

3/4 lb monterey jack cheese, cut into 1/4 inch strips lengthwise into strips

2 (10 3/4 ounce) cans cream of mushroom soup ( can use lower fat version)

1/2 cup heavy cream or 1/2 cup half-and-half cream

1 -2 cup longhorn cheese or cheddar cheese, shredded
Directions
In a large heavy fry pan or skillet, melt the butter over a medium heat.

Add the onion and the garlic.

Saute about 4 minutes, then add the chopped chilies, tomatoes, bell pepper, cilantro, broth and cumin.

Let this mixture simmer over a medium low heat about an hour, stirring occasionally, uncovered (add more chicken broth if mixture gets too thick and dry).

Remove from the heat and dip (to soften) each tortilla in the sauce, lay flat then place strips of chicken, 1-2 pieces of Jack cheese and 1-2 strips of green chilies at one end of the tortilla.

Roll the filled tortilla and place in a lightly greased large baking dish or pan, seam-side down.

Fill the pan with the rolled tortillas.

Pour the sauce over all.

Combine the soup and cream and pour over all then cover with the shredded cheese.

Bake in preheated 350°F oven for 30 minutes.