Gluten Free Pumpkin Cornbread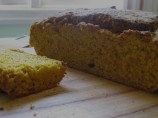 Photo by The Blender Girl
Prep Time: 5 mins
Total Time: 1 hr 35 mins
Yield: 1 loaf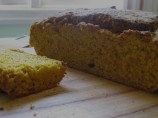 Photo by The Blender Girl
About This Recipe
"I modified my mother-in-law's beloved cornbread recipe to create this. The pumpkin gives the gluten free-flours a moisture and spring, and the lemon juice and spices lifts the mix. My first go was a triumph, and I have not changed anything since. I like to serve this bread right out of the oven, and put almond butter or regular butter on it. This is when the texture is moist and springy, and most resembles regular wheat bread. For those gluten free desperates who will seize any opportunity to taste something resembling moist light bread - this is your moment! This cornbread is a fantastic snack; wonderful with a hearty soup; as a side accompaniment to a zesty salad; or as a sweet treat with a cup of herbal tea. It will keep for a few days in the fridge, but will get firmer and a little more dense like all gluten-free breads."
Ingredients
3/4 cup white rice flour

3/4 cup brown rice flour

1 cup yellow cornmeal

2 teaspoons gluten free baking powder

1 teaspoon baking soda

1/2 teaspoon fine celtic sea salt

1/2 teaspoon xanthan gum

2 cups canned pumpkin, organic. ( 1 cup if using fresh mashed pumpkin)

1 cup soymilk or 1 cup hemp milk

1/2 cup soft unsalted organic butter or 1/2 cup vegan margarine

3 organic eggs

3 tablespoons lemon juice

3/4 teaspoon cinnamon

1/4 teaspoon allspice

1/4 teaspoon nutmeg

1/4 teaspoon ground ginger
Directions
Preheat your oven to 185C/350°F.

Sift the flours, baking powder, baking soda, xanthan, salt and spices together into a bowl, stir in the cornmeal and mix well.

In your mixer, cream the butter, add in the eggs and lemon juice, and mix until smooth.

Now gradually spoon in the pumpkin and milk, and mix slowly until evenly combined.

Keep the mixer running, and slowly pour in the dry ingredients, and combine until a smooth thick batter is achieved.

Pour into a well greased or lined square loaf tin, and bake for about an hour and a half, or until a skewer comes out clean.

After removing the bread from the oven, let it cool and settle in the tin for about 5 minutes.

Then pop it out onto a rack, and allow to cool further.