Gorgonzola Pesto Sauce over Ravioli, Chicken & Asparagus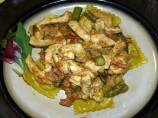 Photo by PSU Lioness
Prep Time: 20 mins
Total Time: 45 mins
Servings: 2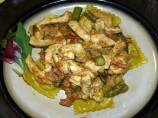 Photo by PSU Lioness
About This Recipe
"The recipe title sounds like a tongue twister, but it is DELICIOUS! This is my attempt at recreating a dish that was created and served at Micheal's Cafe in Duncannon, PA by the late, great Micheal Sean Kapp. It was my absolute favorite entree on the menu, but THE FLAVORS MAY BE OVERWHELMING TO SOME SO PLEASE PROCEED WITH CAUTION. I prefer the complexity and this dish is what got me eating tomatoes AND asparagus. I hope that you enjoy. (Also, when I cook, I do not measure the ingredients so all measurements are approximate. Please adjust to you own tastes). This can also be served as a vegetarian entree by removing the meat and doubling the ravioli."
Ingredients
1 large chicken breast, cut into small pieces

2 tablespoons olive oil

10 pieces of frozen ravioli, any variety ( I used spinach ricotta)

2 tablespoons olive oil

2 tablespoons olive oil

8 fresh asparagus, stalks cut into 1-inch long pieces

3 sun-dried tomatoes, diced

1 large fresh tomato, diced

2 tablespoons refrigerated pesto with pine nuts

1/4-1/2 cup white wine ( or substitute chicken broth)

1/4 cup gorgonzola, crumbled
Directions
Heat 2 tbsp olive oil over medium heat. When heated, saute chicken until no longer pink. Remove from pan and set aside.

Cook ravioli according to package directions (or make your own according to your favorite recipe). When cooked, heat 2 tbsp olive oil over medium heat. When heated, fry ravioli until golden on both sides. Remove from pan and set aside.

Heat 2 tbsp olive oil over medium heat in a large pan (I used a wok). When heated, add asparagus and saute about 5 minutes.

After sauteing asparagus, add sun-dried tomatoes, regular tomatoes and pesto. Cook approximately 10 minutes until the asparagus feels crisp/tender when poked with a fork.

When asparagus is crisp/tender, add the white wine. Add more or less depending on how thick you want the sauce to be.

Let cook for approximately 5 minutes or until wine reduces by about a quarter.

After the wine has reduced, remove the pan from the heat. Gently stir in the Gorgonzola cheese and chicken.

Place 5 ravioli on each plate and spoon the Gorgonzola mixture over it just before serving.

Serve with garlic bread and fresh salad.

You can also substitute scallops or shrimp (or both!) for the chicken.