Winter Squash, Onion, and Pine Nut Pizza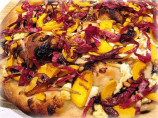 Photo by BB2011
Prep Time: 30 mins
Total Time: 48 mins
Serves: 8, Yield: 8 slices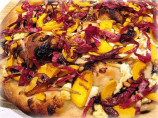 Photo by BB2011
About This Recipe
"Adapted from "Pizza: Grill It, Bake It, Love It!" This flavorful autumnal pie uses winter squash purée as the pizza topping; the purée is spread like a sauce on the crust."
Ingredients
yellow cornmeal, to dust the pizza stone or nonstick spray to grease the baking sheet

1 lb pizza dough or 1 prepared pizza crust

2 tablespoons olive oil

2 medium yellow onions, halved through the stem and thinly sliced

3/4 cup winter squash, pureed

2 teaspoons sage leaves, minced or 1 teaspoon rubbed sage

1/4 teaspoon ground nutmeg

1/4 teaspoon salt

1/4 teaspoon black pepper

1 1/2 ounces parmigiano-reggiano cheese or 1 1/2 ounces pecorino cheese, finely grated

1 tablespoon pine nuts
Directions
Preheat pizza stone or oven. If using a pizza stone, preheat it in the oven at 450 degrees Fahrenheit for 30 to 45 minutes; if using a pizza tray or a large baking sheet, preheat the oven to 450 degrees.

Prepare the crust. If you're using fresh dough on a pizza stone, dust it lightly with cornmeal. Add the dough and form it into a large circle by dimpling it with your fingertips. Shape it by slowly turning it by its edge until the circle is about 14 inches in diameter. Set it cornmeal side down. To use fresh dough on a pizza tray or a large baking sheet, grease the tray or baking sheet lightly with nonstick spray. Lay the dough on the baking sheet and press it until it forms a circle about 14 inches in diameter on the pizza tray. If you're using a prebaked crust, place it on a cornmeal-dusted pizza stone or a large baking sheet.

Heat a large skillet over medium heat with the oil. Add the onion slices, reduce the heat to very low and cook, stirring often, until soft and golden, 20 to 25 minutes.

Meanwhile, stir the squash purée, sage, nutmeg, salt and pepper in a medium bowl until uniform. Spread this mixture evenly over the prepared crust, leaving a 1/2-inch border at its edge. Top with the caramelized onions, then sprinkle the finely grated cheese and pine nuts over the pie.

Slide the pizza onto its tray or baking sheet. Bake until the crust is golden and somewhat firm to the touch, 16 to 18 minutes. Check fresh dough occasionally to prick any air bubbles that may arise so you'll have an even crust on the pie.

Cool for 5 minutes before slicing. If you want to make sure the crust stays crunchy, consider transferring the pie directly to the wire rack after a minute or so.