Sweet Tomato Relish, Canning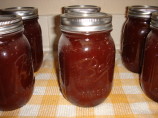 Photo by Hadice
Prep Time: 1 hr
Total Time: 6 hrs
Serves: 100, Yield: 12-13 pints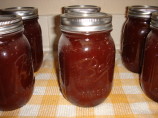 Photo by Hadice
About This Recipe
"My Mom made this when I was a kid and I have been craving it for years. I just got in to canning and had her find the recipe for me. She got it from a neighbor years ago. I found Roma tomatoes at a farmers market for 25 cents a pound and I couldn't resist. It tastes great on steak, hot dogs, burgers, venison etc. I even pour it over cream cheese and eat it with crackers. It is sweet, be warned. There are plenty of other tomato relish recipes out there if you prefer a savory relish."
Ingredients
5 quarts tomatoes, skinned and cored

1 quart onion, peeled and ground

1 quart apple, tart, peeled and ground

1 quart vinegar

4 quarts sugar

4 tablespoons salt

4 tablespoons mustard, dry

1 teaspoon cinnamon

1 teaspoon clove, powdered

1 teaspoon allspice, powdered

1 teaspoon ginger, powdered
Directions
Get a big pot, really big, 10 quarts or bigger.

Mix ingredients together and simmer uncovered on low.

The tomatoes will break down on their own, but you can use a potato masher and/or immersion blender if a very smooth relish is desired.

Stir often, it can burn on the bottom. Stir with a spatula to help prevent sticking and burning.

Reduce until it reaches the consistency of applesauce. It will turn a nice dark red and be somewhat translucent. The recipe said 2-3 hours, I cooked it for 6.

To preserve, ladle relish in to prepared, hot jars leaving at least 1/4 inch head space.

Process in boiling water bath for 20 minute (adjust for altitude).