Sweet Potato Drop Biscuits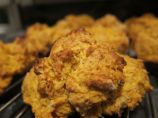 Photo by Anne's Kitchen
Prep Time: 1 hr 30 mins
Total Time: 1 hr 50 mins
Serves: 6-12, Yield: 12.0 large biscuits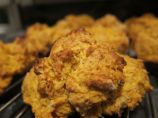 Photo by Anne's Kitchen
About This Recipe
"These biscuits, from my own original recipe, are light, rich, moist and slightly spicy. The sweet potato flavor is pronounced but not overpowering. They're great for breakfast, but since they aren't sweet, they work well as a side dish for lunch or dinner, too."
Ingredients
1 1/2 cups unbleached white flour

1 1/2 teaspoons baking powder

1 teaspoon baking soda

1/2 teaspoon salt

1/4 teaspoon fresh nutmeg

1/4-1/2 teaspoon cayenne pepper (optional)

6 tablespoons unsalted butter, cut in 1/4-inch cubes and chilled in freezer

1 cup sweet potato, cooked and mashed*

1/2 cup plain yogurt ( or buttermilk)

1 tablespoon light brown sugar ( or agave nectar)
Directions
Preheat oven to 425Ëš.

Sift dry ingredients together into food processor. Pulse to blend. Add cold butter and pulse several times, until mixture resembles coarse crumbs. Turn mixture out into mixing bowl.

Combine sweet potato, yogurt and sugar or agave nectar in processor and run for several seconds to blend thoroughly.

Add sweet potato mixture to flour mixture and stir together briefly, just until all flour is incorporated and dough forms a ball. (Mixture may be sticky.) Do not overwork the dough.

Line 2 baking sheets with parchment paper. Using a cookie scoop—either ½ or ¼ cup capacity—scoop uniform mounds onto sheets. You can get 5 large or 10 small biscuits onto each cookie sheet.

Bake until biscuits are set and just start to brown: about 20 minutes for large and 15 minutes for the small size.

These are best served hot (with butter if desired). They can be reheated on a baking sheet for 5 minutes at 400Ëš: good as new.

* Use 2 small-to-medium sweet potatoes baked whole for 1 hour at 375Ëš and scooped out. I also made this w/ 1 giant sweet potato (1 1/4 cup): excellent! Very sticky batter, but biscuits were light, moist and nicely peppery.

Makes about 12 medium or 24 small (bite size) biscuits.