Hot & Spicy, Low Carb, Vegan Mac & Cheese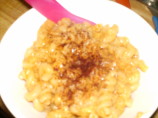 Photo by SugarHATER
Prep Time: 10 mins
Total Time: 20 mins
Servings: 4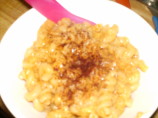 Photo by SugarHATER
About This Recipe
"Love Spicy. Love Cheese. Currently a vegan, so I'm made some adjustments to create: "Hot & Spicy, Low Carb, Vegan Mac & Cheese" PLEASE NOTE: this is NOT going to be "creamy and smooth" like full-fat, artery clogging mac & cheese. But, it tastes just as good even if it is firm. Eat it while hot because once it cools... it sticks together. I'm sorry, but I'd rather eat this, have the taste and it not be creamy, than have creamy mac & cheese for 10 mintues and my chest cut open for a heart by-pass surgery that takes 16 hours. ALSO NOTE: If you are not a vegan, please only use FAT-FREE real cheese or AS LOW-FAT as you can get. DO NOT USE FLOUR, BUTTER OR MILK or any other saturated fat in this recipe for ANY REASON, PLEASE :-) Thank you! :-)"
Ingredients
12 ounces whole wheat pasta, elbows ( I use "Dreamfield's Brand as seen in the photos for this recipe)

1 cup vegetable broth

1 cup vegan parmesan cheese, shredded

1 cup vegan cheddar cheese, shredded

1 cup v- 8 butternut squash soup ( Can't find the soup? No worries! Just use defrosted frozen butternut squash instead)

1 teaspoon salt

1 teaspoon dry mustard ( from here down, feel free to add a LOT more of these spices if you want. These are just guidelines. )

1/2 teaspoon white pepper ( white pepper is HOTTER than "black" pepper, so if it's your first time using it, be careful.)

1/2 teaspoon Worcestershire sauce

1/2 teaspoon chili powder

3 dashes Tabasco sauce ( again, a guildeline. I use 1/4 a bottle sometimes! Really. Yeah, I like it spicy!)
Directions
Boil pasta shells in salted water until slightly firm, according to package directions.

In another saucepan, combine the vegetable broth, Parmesan, cheddar, and butternut squash over medium heat until melted and combined. Turn off the heat. Add salt, mustard, white pepper, Worcestershire sauce, chili powder & Tabasco.

Drain the pasta but don't rinse it. Add it to the cheese sauce (use a large bowl if necessary) and toss to coat the pasta. Taste and add more salt or pepper, according to your taste.