Butternut, Arugula and Pine Nut Salad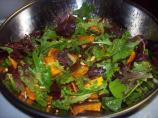 Photo by little_wing
Prep Time: 10 mins
Total Time: 50 mins
Servings: 4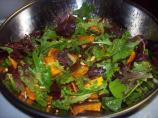 Photo by little_wing
About This Recipe
"A Nigella Lawson recipe."
Ingredients
1 butternut squash, approximately 2 1/4 pounds

1 teaspoon kosher salt or 1/2 teaspoon table salt

1 teaspoon ground turmeric

1 teaspoon ground ginger

2 tablespoons cold-pressed canola oil or 2 tablespoons olive oil, plus 2 tablespoons for dressing

1/3 cup golden raisin

1/4 cup water, freshly boiled

1 teaspoon sherry vinegar

4 ounces about 3 cups arugula and other salad leaves

1/3 cup pine nuts, toasted
Directions
Preheat the oven to 400 degrees F. Don't bother to peel, but halve and seed the butternut squash, cut into 1/2-inch-thick slices, then cut each slice into four.

Put the butternut pieces in a bowl with the salt, spices and 2 tablespoons oil and smoosh them about, then tip onto a lipped baking sheet (lined with aluminum foil). Don't clean the bowl yet.

Cook the squash for 30 to 40 minutes. Check to see if it is cooked through by the time the half hour's up by piercing with a fork; some squashes cook faster than others.

Add the golden raisins to the spice-smeared bowl and cover with the freshly boiled water; once cooled, whisk in the vinegar and the 2 tablespoons oil that remain.

Put half of the salad leaves over a large plate or bowl and arrange the butternut pieces on top. Sprinkle with the remaining salad leaves and the toasted pine nuts. Scrape the raisin-studded dressing out of the bowl to dribble over it all and toss gently before serving.