Cinnamon Swirl Sugar Cookies (A.k.a. Snickerdoodles)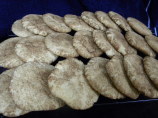 Photo by Chef David Marion(alton brown wannabe)
Prep Time: 10 mins
Total Time: 38 mins
Serves: 36, Yield: 36 cookies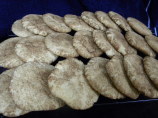 Photo by Chef David Marion(alton brown wannabe)
About This Recipe
"This recipe is as close to foolproof as I have ever made. I have never made an edible cookie, and my wife of 32 years has always had difficulty makeing sugar cookies, so when I found this recipe in Cook,s Illustrated, I was amazed with how well this worked. I made some tweeks to lower the sugar amount and added cinnamon to change the flavor and look. Please enjoy!"
Ingredients
2 1/4 cups all-purpose flour

1/2 teaspoon baking soda

1 teaspoon baking powder

1/2 teaspoon sea salt

1 1/2 cups sugar

2 ounces low-fat cream cheese

6 tablespoons unsalted butter, melted, still warm

1/3 cup canola oil

1 large egg

2 teaspoons vanilla extract

1 tablespoon skim milk

2 tablespoons sugar

2 teaspoons cinnamon
Directions
Adjust oven rack to middle position, heat oven to 350 degrees. Line 2 large baking sheets with parchment paper. Whisk flour, baking soda, baking powder and salt together in a medium bowl, then set aside.

Put 1 1/2 cups sugar & room temperature cream cheese in a bowl, pour warm melted butter over the sugar & cream cheese and mix to combine. Whisk in oil, then add egg, milk and vanilla until smooth. Add flour and mix with a rubber spatula until a soft dough forms.

Take @ 1 tablespoon of the dough and roll into a dough ball(about the size of a ping pong ball) Put the 2 tablespoons sugar and 2 teaspoons cinnamon in shallow pie tin, using your hands gently roll dough in the sugar / cinnamon mixture to coat. Place dough ball on a cookie sheet, and gently flatten the top.

Bake 1 tray at a time until the edges are set and just beginning to brown, @11-14 minutes. Cool 5 minutes on the baking sheet, then transfer to cooling rack until room temperature. ENJOY!