Belizean Style Habanero Sauce - Hot Sauce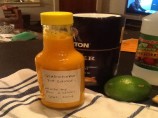 Photo by Chef #1803173542
Prep Time: 10 mins
Total Time: 25 mins
Servings: 40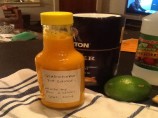 Photo by Chef #1803173542
About This Recipe
"I have tried many different hot sauces in my life, with different level of heat. My all time favorite is Marie Sharp's. Nothing can beat the combination of heat and flavor. My wife was born in Belize and she introduced me to Marie Sharp and she gave us a tour of her factory outside Dangriga, Belize. When we visit Belize we always bring a ton of her sauces back. However, it can be hard to find hear in the states at a reasonable price, so I use this recipe. It is close enough to hers to satisfy the craving. I like to add some papaya to change it up a little. I have even added a little whiskey to it before. Tasted great."
Ingredients
1 onion, chopped

2 garlic cloves, chopped

1 cup carrot, chopped

2 cups water

10 habanero peppers, seeded and fine chopped ( more or less based on the heat level you desire.)

3 tablespoons lime juice, can also use orange juice

3 tablespoons white vinegar

1 teaspoon salt

optional papayas, prickly pear fruit or mango
Directions
Sauté garlic in coated sauce pan.

Once the garlic starts to give off it's aroma, add the onion, carrots, and water. Bring to boil, reduce heat and simmer until the carrots are soft.

Remove from heat .

Add habaneros, optional fruits, lime juice and salt to the carrot mixture.

Place in a blender and puree until it reaches a smooth consistency.

Pour into sterilized bottles or jars and seal. Keep refrigerated.