Turkish Red Lentil Soup (Kirmizi Mercimek Çorbasi)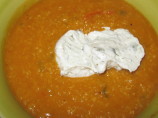 Photo by threeovens
Prep Time: 15 mins
Total Time: 1 hr 45 mins
Servings: 12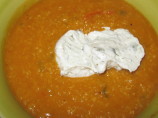 Photo by threeovens
About This Recipe
"This is true comfort food that tastes like a cross between Cream of Wheat and Lentil Soup. Try to get the red lentils because they cook quicker and lend a lovely orangy color to the finished soup (the lentils cook to a yellow, but the tomatoes make it orange). This soup is usually served before a meal with a dollop of yogurt or tzatiki sauce swirled in."
Ingredients
10 -12 cups beef stock or 10 -12 cups water

3 cups red lentils, picked over and rinsed

3 teaspoons salt, divided

2 cups onions, chopped

1/2 cup olive oil

1 cup bulgur

1 tablespoon fresh ground black pepper

1 teaspoon cayenne pepper ( or more to taste)

1 tablespoon ground cumin

4 tomatoes, chopped

6 ounces tomato paste

1 cup fresh parsley, chopped

4 cups chicken broth

3 tablespoons fresh lemon juice or 3 tablespoons distilled white vinegar

yogurt, for garnish
Directions
In a large pot, bring to a boil 10 to 12 cups of water; add lentils, 2 teaspoons salt, cover and reduce heat, letting simmer for 30 minutes.

Meanwhile, heat another pot, over medium heat, and add onions, cover with olive oil, and 1 teaspoon salt; once it begins to sizzle, reduce heat to low and cover for about 5 minutes.

To the second pot, add bulgur, pepper, cayenne, and cumin; stir until lightly browned.

Add tomatoes, tomato paste, parsley, and 4 cups chicken broth; bring to a boil, cover, reduce heat and simmer 15 minutes.

Pour the contents of the second pot into the large soup pot with the lentils; cover and simmer until the bulgur and the lentils are soft, about an additional 40 minutes.

You may add additional water if you like a thinner soup (as we do).

Stir in lemon juice or vinegar; serve a dollop of yogurt with each serving, if desired.