Farro Risotto With Butternut Squash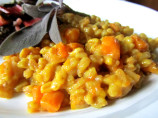 Photo by Rita~
Prep Time: 15 mins
Total Time: 55 mins
Servings: 4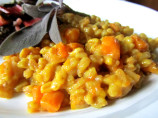 Photo by Rita~
About This Recipe
"Farro's a wheat and when coooked it is chewy. It's butternut time! Ready to be picked from the garden as is the saffron so the two in this dish is fresh as can be! You can keep this vegetarian add some tofu or add fresh caught shrimp or fish like cod the last 5 minutes."
Ingredients
236.59 ml diced butternut squash

1419.54 ml vegetable stock (Vegetable Stock) or 1419.54 ml chicken stock, preferably homemade (Giblet Stock from Turkey or Chicken or ?? for Soup or Gravy) or 1419.54 ml water

29.58 ml unsalted butter

118.29 ml minced red onion

2 garlic cloves, minced or 4 roasted garlic cloves

3 fresh sage leaves, minced

354.88 ml cracked farro ( 10 ounces)

118.29 ml dry white wine

0.25 ml saffron thread ( generous pinch)

2.46 ml black pepper

236.59 ml freshly grated parmesan cheese
Directions
Heat the stock in a small covered saucepan. Leave it on low heat to simmer.

In a heavy-bottomed pot, melt the butter and saute the onion, and butternut on medium-low heat for 5 minutes then add garlic and sage for 1 minute. Add the farro and stir to coat the grains with butter. Add the wine and cook for 2 minutes. Add 2 full ladles of stock to the farro plus the saffron, and pepper. Stir, and simmer until the stock is absorbed, 5 to 10 minutes. Continue to add the stock, 2 ladles at a time, stirring every few minutes. Each time, cook until the mixture seems a little dry, then add more stock. Continue until the farro is cooked through, but still al dente, about 30-45 minutes total.

Off the heat, stir in the Parmesan cheese. Taste and season with salt. You can add more butter at this time if desired.

Mix well, garnish with fresh sage and serve.