Stuffed Pumpkins with Herbs and Bread Crumbs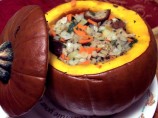 Photo by HeatherFeather
Prep Time: 20 mins
Total Time: 1 hr 5 mins
Servings: 4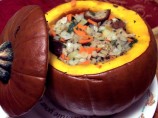 Photo by HeatherFeather
About This Recipe
"Great for a holiday treat! This is made with miniature pumpkins, but could also be made with one larger pumpkin. Enjoy!"
Ingredients
4 miniature pumpkin ( about 4 to 5 inches in diameter)

473.18 ml cubed rye bread or 473.18 ml whole wheat bread

118.29 ml thinly sliced carrot

236.59 ml diced onion

118.29 ml vegetable stock

118.29 ml diced celery

4.92 ml dried marjoram

4.92 ml dried basil

2.46 ml dried oregano

2.46 ml fresh ground black pepper

59.14 ml minced fresh parsley

4.92 ml virgin olive oil or 4.92 ml apple juice
Directions
Preheat the oven to 325*.

Cut off pumpkin tops and set aside.

Scoop out the seeds and membranes.

Place the pumpkin shells on a large baking sheet.

In a medium bowl, combine the remaining ingredients.

Pack the stuffing tightly into the pumpkin cavities.

Cover with the reserved tops.

Bake until the pumpkin shells are tender, about 45 minutes.

Serve hot.