Wicklewood's Chocolate Muffins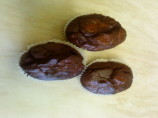 Photo by WicklewoodWench
Prep Time: 5 mins
Total Time: 30 mins
Yield: 15 muffins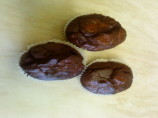 Photo by WicklewoodWench
About This Recipe
"For those without dietary restrictions, this gluten and sugar free recipe can be made using the same quantity of plain flour and 8oz of castor sugar. However, these little treats are just as sweet and light as they are."
Ingredients
2 ounces white rice flour

2 ounces tapioca starch

2 ounces corn flour

3 ounces cocoa powder

1 tablespoon baking powder

1/4 teaspoon xanthan gum

6 ounces butter

10 ounces artificial sweetener

2 eggs, beaten

6 fluid ounces milk
Directions
Preheat your oven to 180 deg .

Over a low heat, melt the butter, milk and cocoa powder together until all the ingredients have emulsified.

Set aside to cool slightly and add the beaten eggs.

Sieve the flours, xanthan gum and baking powder into a large bowl, add the sweetener.

Stir in the chocolate mixture

Spoon into muffin cases and bake for about 20 mins.