Wicklewood's Herb Dumplings (Gluten Free)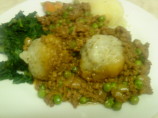 Photo by WicklewoodWench
Prep Time: 5 mins
Total Time: 20 mins
Yield: 8 Dumplings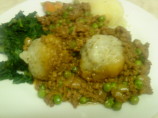 Photo by WicklewoodWench
About This Recipe
"Dumplings or dough balls, can be the finishing touch to any stew or soup, it is completely down to personal taste as to which herb to use, but mixed herbs are pretty fool proof. Gluten free suet is available on the market, but it is only grated vegetable fat,,,so why not use grated vegetable fat and save the pennies."
Ingredients
5 ounces gluten free plain flour

2 ounces gluten free vegetable fat or 2 ounces lard, grated

2 tablespoons low fat natural yogurt

1 teaspoon dried mixed herbs

1 1/4 teaspoons baking powder

1/4 teaspoon salt

freshly ground black pepper

water, to mix
Directions
In a bowl mix the flours, lard, yogurt, herbs, baking powder and seasoning.

Add enough water to bind together.

Shape the mixture into dumpling mixture into 7-8 balls, and gently drop simmering stew or casserole.

Cover and cook until they rise to the surface, approximately 15 minutes.

Remove cover and allow to brown. (Optional).