Pancake Cupcakes With Maple-Bacon Buttercream Frosting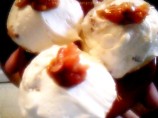 Photo by elecat
Prep Time: 20 mins
Total Time: 55 mins
Servings: 12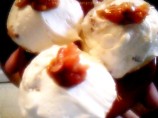 Photo by elecat
About This Recipe
"The cupcakes are based on a homemade pancake batter, baked in a muffin tin to form light, fluffy cakes, like a good pancake should be. The frosting is flavored with maple syrup and bacon. Don't attempt to pipe this frosting; the bacon will get stuck in the tip. Adapted from a recipe at Brown-Eyed Baker. http://bit.ly/clnRii"
Ingredients
Cupcakes

3 slices bacon

1 tablespoon maple syrup

2 cups all-purpose flour

1 tablespoon granulated sugar

2 teaspoons baking powder

1 teaspoon salt

1 1/2 cups whole milk

2 eggs

2 tablespoons unsalted butter, melted and cooled

Frosting

5 slices bacon

3 tablespoons maple syrup

1 cup unsalted butter, at room temperature

2 1/2 cups powdered sugar

3 tablespoons maple syrup

1 teaspoon vanilla extract
Directions
Preheat oven to 400°F Line a sheet pan with aluminum foil and arrange bacon on the pan. Bake 15 minutes until very crisp; immediately transfer bacon to paper towels to drain; let cool 5-10 minutes. Crumble bacon and toss with maple syrup. (Note that there is a total of 8 slices of bacon and 1/4 cup of maple syrup in this step.).

Line a standard muffin pan with paper liners, and spray liners with non-stick spray.

Whisk together flour, sugar, baking powder and salt in a large bowl. Add a third of the cooled bacon. In a second bowl, whisk together milk, eggs and melted butter. Pour the wet ingredients over the dry and stir just until fully moistened (there may be small lumps). Divide the batter evenly amongst the muffin cups and bake in the preheated oven until puffed and firm to the touch, about 10 minutes (they will not brown much). Cool in pan 5 minutes, then transfer to a wire rack until fully cooled.

In the work bowl of a stand mixer fitted with the whisk, whip the butter on high until very light and fluffy, about 5 minutes, scraping down the sides of the bowl every minute or two. Turn the speed down to low and add the powdered sugar a little at a time; do not add more until it's nearly completely absorbed. Scrape down the sides of the bowl, turn up to medium-high and whip until fluffy, 1-2 minutes. Add maple syrup and vanilla and continue to whip 1 minute more. Add half the remaining bacon and stir in with a spatula. Frost the cooled cupcakes with an offset spatula. Top with more bacon.