Wicklewood Wench's Potato and Sweetcorn Soup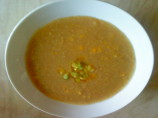 Photo by WicklewoodWench
Prep Time: 15 mins
Total Time: 45 mins
Servings: 4-6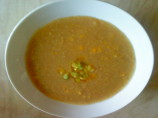 Photo by WicklewoodWench
About This Recipe
"I don't know how old this recipe is or where it originates from, but I remember it was one of the first recipes my Father taught me, and I've passed it on to my children,,,the only difference is they haven't cottoned on to the fact that when someone gives you a recipe you are supposed to try and make the dish yourself... The potatoes should be sliced as thinly as possible, ideally using a mandolin, and it can be completely vegetarian by using vegetable stock instead of chicken stock."
Ingredients
2 1/2 kg potatoes, scrubbed

1 large onion, chopped

4 (500 g) cans sweet corn

2 liters chicken or 2 liters vegetable stock

seasoning

25 g butter

1 bunch spring onion, sliced
Directions
Slice the potatoes.

Place in a large pan with the stock and onion.

Cook over a high heat until potatoes are almost cooked.

Drain 2 cans of sweetcorn and add to the potatoes, reduce heat and continue to cook on a medium heat for a further 5 minutes.

Remove from the heat and blend potatoes, corn and onion together with a blender, return to heat.

Drain remaining cans of sweetcorn and stir into the soup, continue to cook until sweetcorn is warmed through.

Season to taste.

In a separate pan, melt butter and soften the spring onions.

Serve soup while hot and garnish with the melted onion butter.