Butternut Shrimp Soup Topped With Sherry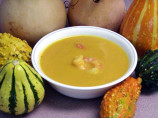 Photo by Rita~
Prep Time: 30 mins
Total Time: 1 hr 20 mins
Servings: 6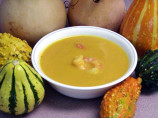 Photo by Rita~
About This Recipe
"That's what I call YUMMY COMFORT food! To make it a bit richer I saute one large onion in 5 tablespoons of butter sprinkled with one tablespoon of brown sugar till caramelized. Then add to soup at the end with shrimp. Alternate method for pureeing butternut Pureed Squash Butternut, Acorn Any Hard Winter Squash!"
Ingredients
2 pears, diced finely

1 large butternut squash

1/2 teaspoon curry powder

3 cups milk

1 cup chicken broth

salt and pepper

1/3 lb small shrimp, peeled and deveined

sherry wine

1/4 teaspoon celery salt

1/4 teaspoon cinnamon

1/4 teaspoon nutmeg
Directions
Clean out the squash; remove the skin and cut into 1/2 inch dice.

Measure 3 cups of cut-up squash.

In a saucepan, simmer the squash, celery salt, cinnamon, nutmeg, curry powder, milk, and broth for about 30 minutes.

Stir to keep the milk from burning.

Season with salt and pepper.

Add half the shrimp and pears to the pumpkin mixture and process in a food processor or blender until smooth.

Return to saucepan and simmer.

Add the remaining whole shrimp and pears and simmer for 5 more minutes.

Top with sherry, more cinnamon and nutmeg to taste.

Optional Seving Bowl:.

If you are going to serve the soup in a pumpkin, boil 2 quarts of water.

Cut the top off of the squash and clean out carefully.

Cut a notch in the top for the ladle to stick through.

Pour the boiling water into the squash and swish around and then pour into sink.

Pour the soup into the pumpkin.