Superfood Lemon Poppy Seed Muffin (Gluten Free-Mmm)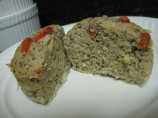 Photo by Emily Elizabeth
Prep Time: 10 mins
Total Time: 14 mins
Servings: 6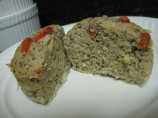 Photo by Emily Elizabeth
About This Recipe
"Poppy seeds, chia seeds, gogi berries maca powder, amaranth, quinoa, teff, buckwheat, millet, brown rice flour... should I say more? This is one of my "magic microwave muffins (MMM)" based off of Magic Microwave Muffin - Sinless Chocolate Banana (Gluten Free) so you can whip them up in no time at all. The first five flours equal a 1/4 cup so have fun trying your own mix of nutrient dense flours!"
Ingredients
Softening the Oats

1/4 cup oats ( gluten free)

1/2 cup skim milk

1 -2 tablespoon dried gogi berries

1 teaspoon vanilla extract

Dry Mix (make ahead)

1 tablespoon amaranth flour

1 tablespoon teff flour

1 tablespoon millet

1 1/2 tablespoons quinoa flour

1 1/2 tablespoons buckwheat flour

1 tablespoon brown rice flour

2 tablespoons garbanzo bean flour ( with fava if available)

1 tablespoon sweet white sorghum flour

1 1/2 teaspoons tapioca flour ( tapioca starch is the same thing)

1 1/2 teaspoons cornstarch

1 tablespoon chia seeds

1 tablespoon poppy seed

1 1/2 teaspoons maca, powder

1/2 teaspoon baking powder

1/4 teaspoon baking soda

1/4 teaspoon salt

1 1/2 teaspoons honey

pure maple syrup

Wet ingredients

3/4 cup mashed banana ( 1.5 large ripe bananas)

2 egg whites ( or 1 egg)

2 tablespoons lemon juice

Toppings
Directions
Choose one of the following options to soften the oats. OVERNIGHT OPTION: In a small container, combine the oats, gogi berries, milk and vanilla. Cover and let soak overnight in the refrigerator. QUICK OPTION: In a 1.5 cup or larger microwave safe container, combine oats, milk and vanilla and microwave on high for 1 minute to soften the oats.

Combine dry ingredients in a small bowl and blend together with a wire whisk.

Mash the bananas in a medium bowl with a fork. Add egg whites and the softened oats mixture and stir together. (If the oats are hot from the microwave, stir quickly so they don't cook the eggs).

Pour the dry mix on top of the banana mixture and stir until powder is mixed in completely.

Divide the batter evenly into 6 small tea cups or for larger muffins use three 8oz ramekins (NOTE: Batter should never fill its container more than half full or it will bubble over while cooking).

Top each one with a sprinkling of coconut and/or dried gogi berries if desired.

Put all containers in the microwave together with at 1-2" space in between and microwave on high for 3 to 5 minutes or just until center is dry to the touch (see microwave tips below to determine cook time).

Carefully remove containers from microwave using oven mitts. Flip over with the serving plate or your hand underneath (ready to catch) and shake muffins lightly side to side and up and down and the muffin should drop right out! Flip so it is right side up and let cool.

Serve warm, or store in covered containers in the fridge for up to a week (cool muffin completely before storing to prevent soggy bottoms).

MICROWAVING TIPS: After 3 minutes of baking in the microwave, the muffins should have doubled in height and should be bubbling at the center and possibly the edges. When bubbling stops and centers look dry, stop the microwave and quickly tap the center with your finger. If the batter sticks to your finger, put them back in microwave for another 15-30 seconds and then check again. Repeat until the batter is dry and doesn't stick. NOTE: Cook time will be reduced if the oats and milk were already hot from the microwave when you mixed the batter.