Ginger, Garlic, and Honey Grilled Baby Back Ribs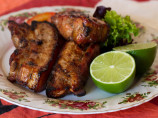 Photo by Peter J
Prep Time: 20 mins
Total Time: 50 mins
Servings: 4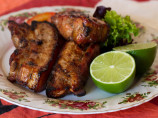 Photo by Peter J
About This Recipe
"Received in an email. Originally from 'Planet Barbecue!: 309 Recipes, 60 Countries'. You will need 1-4 hours for marinating which is not included in prep time."
Ingredients
4 lbs baby back ribs

6 cloves garlic, coarsely chopped

1 piece fresh ginger, peeled and coarsely chopped

1 tablespoon sugar

1 tablespoon coarse salt ( kosher or sea)

2 teaspoons freshly ground black pepper

2 tablespoons honey

1 tablespoon soy sauce

1 tablespoon asian fish sauce soy sauce ( or more)

for the dipping sauce

4 teaspoons coarse salt ( kosher or sea)

4 teaspoons white pepper

4 juicy limes, cut in half
Directions
Prepare the ribs and spice paste: If necessary, remove the thin, papery membrane from the back of each rack of ribs some stores sell baby backs with the membrane removed. If you are using the larger racks of ribs, cut each rack in half. Place the ribs in a nonreactive baking dish just large enough to hold them in a single layer.

Place the garlic, ginger, sugar, 1 tablespoon of salt, and the black pepper in a mortar and pound to a paste with a pestle. If you do not have a mortar and pestle, puree these ingredients in a food processor. Work in the honey, soy sauce, and fish sauce.

Spread the spice paste over the baby back ribs on both sides. Let the ribs marinate in the refrigerator, covered, for 1 to 4 hours; the longer the ribs marinate, the richer the flavor will be.

Prepare the ingredients for the dipping sauce: Place 1 teaspoon of salt and 1 teaspoon of white pepper in neat mounds side by side in each of 4 tiny bowls for the dipping sauce. Place 2 lime halves next to each bowl.

Set up the grill for direct grilling and preheat it to medium.

When ready to cook, brush and oil the grill grate. Place the ribs, bone side down, on the hot grate and grill until golden brown and cooked through, 8 to 12 minutes per side, a little longer for full-size ribs.

When the ribs are done, the meat will have shrunk back from the ends of the bones by about 1/4 inch.

Transfer the racks of ribs to a cutting board and cut them into individual ribs, then arrange them on a platter or plates for serving.

Squeeze 1 to 2 tablespoons of lime juice into the bowls of salt and white pepper and stir until mixed. Dip the ribs in the sauce before eating.