Cucumber Feta Amazingness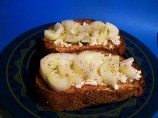 Photo by Sharon123
Prep Time: 15 mins
Total Time: 23 mins
Serves: 12, Yield: 12 Slices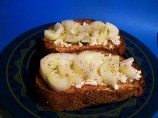 Photo by Sharon123
About This Recipe
"I got this awesome appetizer from a girl I work with. I'm not sure where she got it. She was raving about how wonderful it was so I told her to prove it to me! She made it for a going away party, and I'll be... she was right! Amounts are approximate. I just watched her make it and then tried myself. You can use a sturdy cracker like a Triscuit, but I think a baguette works better than the crackers because there is less salt. However, using crackers is a good way to keep it no-cook for the summer. (Serving size is an estimation.)"
Ingredients
113.39 g feta cheese, crumbled

19.71 ml extra virgin olive oil, plus some to drizzle

4.92 ml lemon juice

1 baguette or 1 Triscuit crackers

1 small cucumber, in half lengthwise, then sliced

salt and pepper
Directions
If using a baguette, toast in the oven for 5-8 minutes or until crusty.

Combine feta, evoo and lemon juice in a bowl - mash it really well.

Slice the bread into 1 inch thick rounds.

Spread a good amount (1 T?) of the feta mixture onto the bread slices/crackers.

Arrange 2 half slices of cucumber on top of each feta pile.

Drizzle with a little evoo and sprinkle with salt and pepper.

Skip the salt if you are using crackers.

Enjoy!