Sweet Potato and Black Bean Burrito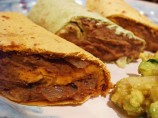 Photo by FLKeysJen
Prep Time: 35 mins
Total Time: 1 hr 5 mins
Yield: 8 portions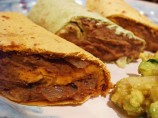 Photo by FLKeysJen
About This Recipe
"Sweet potatoes add an unexpected creaminess to the filling in these burritos. Serve the burritos on a bed of rice, if you like, with plenty of salsa. Enjoy!"
Ingredients
1182.95 ml peeled cubed sweet potatoes

2.46 ml salt

9.85 ml canola oil or 9.85 ml other vegetable oil or 9.85 ml broth

828.06 ml diced onions

4 garlic cloves, minced ( or pressed)

14.79 ml minced fresh green chili pepper

19.71 ml ground cumin

19.71 ml ground coriander

1064.65 ml cooked black beans ( three 15-ounce cans, drained)

158.51 ml lightly packed cilantro leaf

29.58 ml fresh lemon juice

4.92 ml salt

12 (120 inch) flour tortillas

fresh salsa
Directions
Preheat the oven to 350*.

Place the sweet potatoes in a medium saucepan with the salt and water to cover.

Cover and bring to a boil, then simmer until tender, about 10 minutes.

Drain and set aside.

While the sweet potatoes are cooking, warm the oil in a medium skillet or saucepan and add the onions, garlic, and chile.

Cover and cook on medium-low heat, stirring occasionally, until the onions are tender, about 7 minutes.

Add the cumin and coriander and cook for 2 to 3 minutes longer, stirring frequently.

Remove from the heat and set aside.

In a food processor, combine the black beans, cilantro, lemon juice, salt, and cooked sweet potatoes and puree until smooth (or mash the ingredients in a large bowl by hand).

Transfer the sweet potato mixture to a large mixing bowl and mix in the cooked onions and spices.

Lightly oil a large baking dish.

Spoon about 2/3 to 3/4 cup of the filling in the center of each tortilla, roll it up, and place it, seam side down, in the baking dish.

Cover tightly with foil and bake for about 30 minutes, until piping hot.

Serve topped with salsa.