Banana Toffee Bars W/ Browned Butter Icing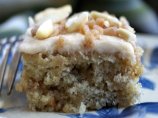 Photo by Nanners
Prep Time: 35 mins
Total Time: 1 hr
Yield: 36 bars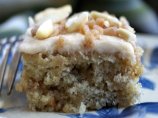 Photo by Nanners
About This Recipe
"These are rich and melt in your mouth - very much like a banana cake. Toffee and banana go so well together. I think these would also be good using almond extract. These are fabulous for a coffee break, dessert or a sinful breakfast. You can use any brand of toffee pieces such as Skor or Heath, just make sure they are not chocolate covered. ***NOTE: I wrote out the amounts for the sugar in the bars and the butter in the icing because Food.com wasn't recognizing "1/3". Hence, these amounts are not included in the nutritional value***"
Ingredients
For the bars

1/2 cup butter, softened

one and one-third cups sugar

1 egg

1 cup mashed banana ( about 3)

1/2 cup sour cream

1 teaspoon vanilla

1 1/2 teaspoons baking powder

1/2 teaspoon baking soda

1/4 teaspoon salt

2 cups all-purpose flour

3/4 cup toffee pieces

1/2 cup slivered almonds, for topping (optional)

1/2 cup toffee pieces, for topping (optional)

For the Browned Butter Icing
Directions
For the Bars.

Preheat oven to 350 degrees. Grease a 15x10x1-inch baking pan.

Beat the butter in an electric mixer on medium to high speed about 30 seconds. Beat in the sugar until fluffy - about 1 minute, scraping bowl as needed.

Beat in the egg, mashed bananas, sour cream and vanilla until very well combined.

In a medium bowl, sift together flour, baking powder, baking soda and salt. Add dry mixture to wet and mix together, scraping bowl as needed until well combined. Stir in 3/4 C toffee pieces.

Pour the batter into the prepared baking pan, spreading evenly. Bake for 22-25 minutes (at 350) or until a wooden toothpick inserted near the center comes out clean. Let cool 20-30 minutes before icing.

For the Icing.

In a small saucepan heat one-third cup butter over low heat until melted. Continue heating until the butter turns a light brown. This may take a few minutes. Remove from heat; pour into a medium bowl.

Add 2 1/2 cups sifted powdered sugar, 1 t. vanilla and 1 T. milk. Beat with an electric mixer on low speed until combined. Beat on medium to high speed, adding enough milk to make frosting of spreading consistency. I usually add 2 more tablespoons milk.

Use icing immediately.