A Peach of a Pork Tenderloin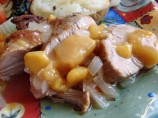 Photo by Derf
Prep Time: 15 mins
Total Time: 50 mins
Servings: 4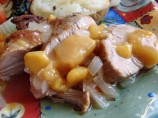 Photo by Derf
About This Recipe
"A luscious, juicy, tender sweet pork tenderloin !!"
Ingredients
1 lb pork tenderloin, trimmed of fat

cooking spray

1/2 teaspoon salt

1/2 teaspoon ground pepper, freshly ground

Peach Sauce

1/2 teaspoon canola oil ( or olive oil)

1/2 cup sweet onion, chopped ( we like Walla Walla)

1 cup chicken broth

1/4 cup white wine ( i used Chardonnay)

1/4 cup peach jam, chunky type ( or peach preserves chopped with juice)

2 tablespoons cold water

1 tablespoon cornstarch

1 tablespoon lime juice (optional)
Directions
Preheat oven to 450F degrees.

Spray a heavy bottomed frypan with veggie spray , heat on high, meanwhile spray tenderloin all over with veggie spray, sprinkle with salt and pepper.

Quickly sear tenderloin on all sides, reduce heat to medium, continue browning on all sides 'til well coloured, about 5 minutes. Remove from heat and place on rack in a roasting pan; roast for approximately 20 minutes, depending on the thickness of the tenderloin.

While the tenderloin is roasting make the sauce.

In the same frypan used to sear the tenderloin, heat the oil on medium heat; add the onion, cook for about 5 minutes 'til the onion softens, stirring occasionally. Add the broth, wine and peach jam or preserves with juice; simmer gently for 5 minutes.

Whisk cornstarch into cold water in a small cup; add , while stirring, to the jam mixture, boil while stirring until thickened; remove from heat.

Add lime juice if using, stir to mix.

Carve tenderloin into half inch slices; pour sauce along slices and serve hot.