Gnocchi With Asparagus & Olives in a Creamy Pesto Sauce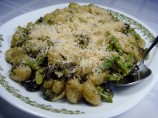 Photo by Lori Mama
Prep Time: 5 mins
Total Time: 20 mins
Serves: 4-6, Yield: 4.0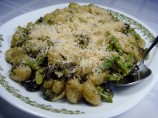 Photo by Lori Mama
About This Recipe
"This honestly is so easy to make and such a nice dish. This is good enough to serve to company. Other than the asparagus and onion that you will need to cut, the rest is all pantry or store bought items. The creamy ricotta and bread crumbs added to the soft gnocchi makes for a perfect dish. Many grocery stores carry fresh and frozen varieties, as all of mine do. Whole Foods, Sams Club, Trader Joes, for those in the US carry them and of course most Italian Markets. They are a nice change from the traditional pasta shapes. I happen to love asparagus in this, but I have also used peas or green beans too. For the pesto, by all means make your own, but a good store brand makes this quick and easy."
Ingredients
1 lb gnocchi ( refrigerated or frozen)

1/2 lb asparagus, cut in 1/2-inch pieces on an angle ( approximately 2 cups, green beans or peas make a great substitute)

1 medium onion, cut in half and thin sliced ( use less onion if you want)

1/2-3/4 cup black olives, cut in half ( buy a can of pre cut olives and save yourself some time)

1/2 lemon, zest of, use the other half thin sliced as a garnish if you want

salt ( go easy with the salt as the pesto and olives are both salty)

pepper

Sauce

Topping

1/3 cup ricotta cheese

1 cup Italian seasoned breadcrumbs

1 1/2-2 tablespoons olive oil

1/2 cup parmesan cheese
Directions
Bread Crumb Topping -- Make this first and then just set it off to the side. In a small dry saute pan, add the breadcrumbs and bring to medium high heat. You just want to toast them and they don't take long so keep an eye on them. Make sure to keep stirring them. You could easily make your own bread crumbs for this, but I used store bought Italian seasoned bread crumbs which saved some time. Once the bread crumbs are toasted and golden brown, transfer to a small bowl and mix with the olive oil and parmesan cheese.

Vegetables -- In a large pot of salted boiling water (on a medium boil), add the asparagus and cook until tender. About 3-5 minutes. It depends on how thick your asparagus is. Remove the asparagus with a slotted spoon to a bowl of ice water to set the color and to stop the cooking. It just needs a minute in the water, then transfer to a plate lined with a paper towel to dry.

Gnocchi -- Cook the gnocchi according to package directions. Drain well and return to the pot (keep the heat on medium / medium low.

Finish -- Add the cream, pesto, olives, and onions to the gnocchi and cook another 2-3 minutes until everything is heated through. Check for seasoning and add any additional salt or pepper if needed. Then add in the asparagus, lemon zest and toss lightly.

Serve -- Transfer to a serving platter and top with the toasted bread crumbs and a scoop of the ricotta cheese. Garnish with the lemon slices from the half of lemon you did not zest. ENJOY!

Add a fresh cucumber and tomato salad for a nice simple side dish.