Emeril Lagasse's Pumpkin Cheesecake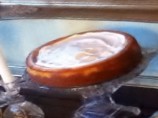 Photo by mcbathr
Prep Time: 8 hrs
Total Time: 9 hrs 20 mins
Serves: 10-12, Yield: 1 9inch cake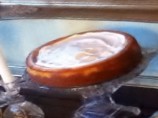 Photo by mcbathr
About This Recipe
"Emeril suggest that if you buy and extra pumpkin and puree it you will have the most fantastic cheesecake for the holidays. Sounds amazing!"
Ingredients
414.03 ml graham cracker crumbs

59.14 ml finely ground pecans

14.79 ml light brown sugar

4.92 ml ground cinnamon

118.29 ml butter, melted

3 (680.38 g) package cream cheese, at room temperature

354.88 ml sugar

29.58 ml cornstarch

4.92 ml pure vanilla extract

0.59 ml grated nutmeg

2 large eggs

2 large egg yolks

59.14 ml heavy cream

1 (425.24 g) can pumpkin puree
Directions
Preheat the oven to 350 degrees F.

Combine the graham cracker crumbs, pecans, brown sugar, and 1/2 teaspoon of the cinnamon in a bowl.

Pour in the melted butter and stir well to blend.

Press the mixture evenly into the bottom and 1 inch up the sides of a 9-inch springform pan.

Combine the cream cheese, sugar, cornstarch, vanilla, the remaining 1/2 teaspoon of cinnamon, and the nutmeg in the bowl of an electric mixer.

Beat until fluffy.

Add the eggs and yolks, beating on low speed until just blended.

Fold in the cream and pumpkin purée.

Pour the batter into the crust-lined pan, and place on a baking sheet.

Bake until the center is nearly set, about 1 hour to 1 hour and 10 minutes.

Remove from the oven and cool for 15 minutes.

Carefully run a small, sharp knife between the cake and the sides of the pan.

Release the sides of the pan and cool at room temperature for 30 minutes.

Cover the cheesecake tightly with aluminum foil or plastic wrap, and chill in the refrigerator at least 4 hours, or up to 8 hours, before serving.