Fabulous Southern-Style Oven Fried Chicken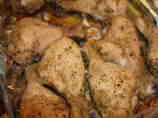 Photo by ArtsyBakingGeek
Prep Time: 15 mins
Total Time: 1 hr 15 mins
Serves: 3-6, Yield: 3.0 plates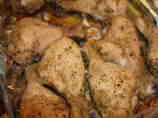 Photo by ArtsyBakingGeek
About This Recipe
"I devised this to resolve my southern husband's taste for fried chicken with a HEALTHY, non-deep-fried version, with no wheat, milk, eggs, or processed or artificial ingredients. It's a delicious EASY recipe that works for chicken legs, thighs, or breasts. Make PLENTY in the summer to eat as is, or use leftovers for chicken SALAD!"
Ingredients
10 chicken legs ( or 3 chicken breasts, bone-in works just fine and is more economical than boneless)

1 tablespoon dried rosemary

1/2 teaspoon salt ( adjust to taste)

1/2 teaspoon black pepper

1 teaspoon garlic powder

1/2 teaspoon onion powder

1 tablespoon potato starch

2 tablespoons oats

1 pinch powdered ginger (optional)

canola oil cooking spray

1/2 cup water
Directions
For moistest results soak chicken pieces in a bowl of salted water for 15 minutes before cooking.

Line baking tray with foil and spray lightly with oil.

Grind dry ingredients in coffee grinder or with pestle and mortar.

Pour into a bowl and add water little by little while stirring until a smooth runny paste is achieved. You may need more or less water.

Remove chicken from soaking water, and pat dry if necessary.

Dip into the rosemary coating until covered, and place on baking tray. This will seal in the juices.

Bake at 365º for one hour.

Once it's in, put your feet up for at least ten minutes, drink a glass of cold water, breathe deeply - and relax. Your chicken is safe.

Suggestions: Serve with brown rice and greens, or if you have cooked breasts or thighs, then serve the chicken chopped into a salad with cucumbers, roma tomatoes and red onion, topped with Chimichurri sauce - a purée of cilantro, lemon juice, olive oil, garlic and salt.