Whoopie Pies - Soft Sandwhich Cookie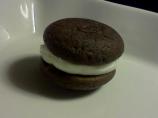 Photo by MrsScarlettOhara
Prep Time: 25 mins
Total Time: 34 mins
Serves: 13, Yield: 3 dozen cookies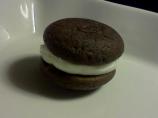 Photo by MrsScarlettOhara
About This Recipe
"Cake-like choc. cookies with a creamy filling. I've used another recipe a couple of times and have changed it a little to make it better. These cookies are so yummy! 2 cookies per person is plenty...very filling:-) Optional: Try this with one cookie first to see if you like it. Freeze a whoopie pie. Melt some dipping chocolate. Coat entire cookie quickly, place on parchment paper then place in fridge or freezer until it sets....a yummy alternative."
Ingredients
Cookie

1 cup shortening

2 cups white sugar

2 eggs

1 cup buttermilk

1 1/2 teaspoons vanilla

4 cups of all purp. flour

2 teaspoons baking soda

1 teaspoon salt

1 cup unsweetened cocoa powder

1 cup warm water

Filling

1/2 cup shortening

1 cup butter

4 cups powdered sugar

1/4 cup whipping cream

1 teaspoon vanilla
Directions
Preheat oven 400f.

>Cream shortening and sugar.

>Add eggs one at a time till each is blended well.

>Add buttermilk and vanilla and blend.

>Place flour, soda, salt and cocoa powder together in a separate bowl, stir then add to batter.

>Last of all add warm water.

If you don't have a thick pan use the upper levels of the oven. Use parchment paper or grease pan. Drop by spoonfuls (about the size of a 50cent piece). Bake for 7 minutes.

Filling: Combine filling ingredients starting with butter, shortening and sugar. Add cream and vanilla and blend until smooth. Add to COOLED COOKIE and sandwich them.