Asian Plum Sauce for Canning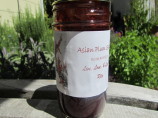 Photo by Rita~
Prep Time: 30 mins
Total Time: 2 hrs
Yield: 5 8 ounce jars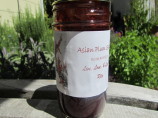 Photo by Rita~
About This Recipe
"This is a sweet and sour condiment. Use it in Chinese cuisine as a dip for deep-fried dishes, such as spring rolls, egg rolls, pork, noodles, and deep-fried tofu as well as for roast duck or chicken. It is made from sweet tart plums along with sugar, vinegar, ginger and chilies."
Ingredients
6 cups pitted chopped red plums

1 1/2 cups packed brown sugar

1 cup sugar

1 cup vinegar, 5% acidity

1 small onion ( 1/2 cup minced)

1 teaspoon crushed dried chili pepper flakes

4 garlic cloves, minced

1 tablespoon fresh ginger, minced

2 tablespoons soy sauce or 1 tablespoon salt

1 tablespoon Thai basil or 1 tablespoon tarragon, minced

1 tablespoon basil, minced
Directions
Place all ingredients in a large heavy bottom pan bring to boil stirring until thick and syrupy 1 1/2 hours when it reaching 215 F degrees.

Fill sterilized jars leaving 1/4 inch headspace. Wipe rims and place lids and rings and process 15 minutes. Shut flame off, remove lid and leave for 5 more minutes.

Remove to a towel-lined counter to cool in a draft free spot.

Remove rings and wipe clean, label and place in storage in a cool, dark place.