Female Nomad's Curried Carrot Soup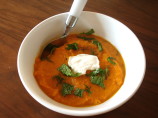 Photo by Kristine at Food.com
Prep Time: 5 mins
Total Time: 45 mins
Servings: 6-8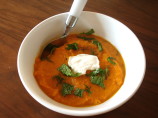 Photo by Kristine at Food.com
About This Recipe
"This recipe comes from Rita Golden Gelman's (aka the Female Nomad) book "Female Nomad and Friends" -- all about traveling the world and connecting through food. This dish is adapted from Adrienne Jury in New Zealand and supposedly was fave soup of the King Gustav of Sweden. I'm making it for a big RZ-Food Network UK dinner party to celebrate the book. Can't wait to see how it turns out!"
Ingredients
2 medium onions, sliced

1 tablespoon salted butter

10 carrots, cut into 1/2-inch slices ( about 6 cups sliced carrots)

1 -2 tablespoon curry powder, to taste

2 tablespoons instant chicken bouillon granules ( I am skipping this and trading some veggie broth for part of the water)

6 cups water, divided

salt, to taste

fresh ground black pepper

2 tablespoons applesauce

2 tablespoons fresh dill, snipped

2 tablespoons of fresh mint, chopped

1/2 cup low-fat sour cream
Directions
Saute the onion in the butter for 5 minutes.

Add the carrot slices, curry powder, powder chicken stock (or veggie stock) and 3 cups of water (or less water if trading in veggie stock).

Simmer until the carrots are soft, 30-35 minutes. As soup is cooking, add the remaining 3 cups of water in half cup increments.

Add salt and pepper, and adjust for taste.

To blend, put half the soup in a blender or food processor. Blend at medium speed for a few seconds. Add the rest of the soup and the applesauce. Blend until smooth.

Serve with fresh dill, mint, and sour cream sprinkled on top.