100% Whole Wheat Graham Crackers or Pie Crust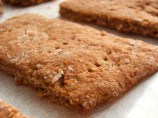 Photo by Lalaloula
Prep Time: 10 mins
Total Time: 25 mins
Serves: 60, Yield: 60 crackers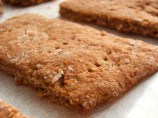 Photo by Lalaloula
About This Recipe
"I couldn't find the perfect 100% whole wheat graham recipe so I made one. These are highly popular with kids and come together very quickly. You can replace a little of the flour with milled flax, wheat germ, oat bran, or whatever you like. And you can make chocolate grahams by adding 1/3 cup cocoa. Crunch them up to make graham crumbs, which are useful for a lot of things. ALSO, this recipe makes an AMAZING pie crust. Please NOTE: The instructions below are specific about rolling these out very thin, and baking until crisp. If you end up with anything but crisp crackers, they weren't rolled thin enough, and/or they weren't baked long enough."
Ingredients
2 1/4 cups whole wheat flour

1/2 cup turbinado sugar ( sucanat or brown sugar would work too)

1 teaspoon baking powder

1/2 teaspoon baking soda

1/2 teaspoon salt

1/2 teaspoon cinnamon

4 tablespoons honey

1/4 cup water

1 teaspoon vanilla

8 tablespoons butter ( melted)
Directions
Preheat oven to 350 degrees.

Melt butter in microwave or on stovetop.

Mix together dry ingredients (first 6 ingredients).

Add the rest of the ingredients and mix until the dough forms a ball. Add a little water if needed.

Line two jelly roll pans with parchment paper or Silpat.

Put half the dough on each pan and gently flatten out with a rolling pin, covering the pan (Depending on the size of your pan, you may not completely cover it. Just roll them out to desired thickness. These don't puff up much, so what you roll out is very nearly what you end up with.).

Gently score the crackers into rectangles with a pizza or pasta cutter.

Bake for 15-20 minutes or until crisp and just beginning to brown.

Let cool on a wire rack.