Jalapeno, Avocado and Bacon Burgers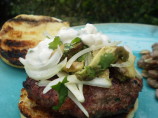 Photo by breezermom
Prep Time: 40 mins
Total Time: 50 mins
Servings: 6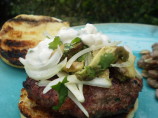 Photo by breezermom
About This Recipe
"A recipe from Rachael Ray. This is a burger from Bar Annie resraurant in Houston. It's a half-pound patty. So feel free to do small patties ;)"
Ingredients
6 jalapeno chiles

6 slices bacon

3 lbs ground chuck

salt and pepper

1/2 cup queso fresco, crumbled or 1/2 cup feta or 1/2 cup goat cheese

1/2 cup mayonnaise

1/4 cup buttermilk

2 tablespoons extra virgin olive oil

2 avocados, pitted and thinly sliced

1 bunch cilantro, chopped

1/2 onion, thinly sliced

6 hamburger buns, split
Directions
Preheat a grill to medium and place a cast-iron skillet on top. Add the chiles and cook until softened and the skin is charred, about 10 minutes. Transfer the chiles to a bowl, cover and let cool slightly. Remove and discard the stems, skin and seeds; finely chop the chiles.

Meanwhile, cook the bacon in the skillet until crisp. Discard all but 1 tablespoon of bacon fat; chop the bacon.

In a large bowl, combine the chopped bacon, the reserved bacon fat, the beef and half of the chiles. Form into 6 patties; season with salt and pepper.

In a medium bowl, combine the queso fresco, mayonnaise, buttermilk, 1 tablespoon olive oil and the remaining chiles. Season with salt and pepper, cover and refrigerate.

In another bowl, toss the avocados, cilantro, onion and remaining 1 tablespoon olive oil; set aside.

Grill the burgers, flipping once, for about 10 minutes for medium-rare. Just before the burgers are finished cooking, grill the buns until toasted, about 1 minute. Place a burger on each bun bottom, top with some of the avocado salad, drizzle with some of the queso fresco dressing and set a bun top in place.