Bluebery Oatmeal Breakfast Bake
By CHRISSYG on June 08, 2010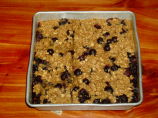 Photo by WhatamIgonnaeatnext?
Prep Time: 10 mins
Total Time: 45 mins
Servings: 8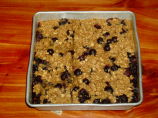 Photo by WhatamIgonnaeatnext?
About This Recipe
"A very healthy and delicious make ahead breakfast that everyone in your family will LOVE. It's not too sweet, but you could adjust to your own taste if you want This reheats in the microwave for 15 seconds and it's just like warm out of the oven. This would even be a nice summer dessert with a dollop of whipped cream or a scoop of vanilla ice cream."
Ingredients
3 cups old fashioned oats

2 teaspoons baking powder

1/4 cup dark brown sugar ( loosely packed)

3 egg whites

1 1/4 cups skim milk

1/4 cup applesauce

1 teaspoon vanilla extract

2 teaspoons ground cinnamon

2 teaspoons margarine, melted

1 pint fresh blueberries

1/2 chopped pecans