Cuban-Style Pork Shoulder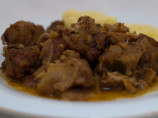 Photo by Peter J
Prep Time: 20 mins
Total Time: 4 hrs 20 mins
Servings: 8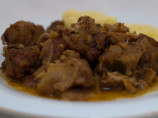 Photo by Peter J
About This Recipe
"From the Los Angeles Times Note: Serve the pork with black beans and rice. This recipe requires a 5- to 6-quart slow cooker."
Ingredients
9 garlic cloves, chopped

2 tablespoons salt

4 teaspoons dried oregano

1 tablespoon ground cumin

2 teaspoons black pepper

2 teaspoons ground dried chile

2 dried bay leaves, finely crumbled

1 tablespoon orange zest, grated

2 tablespoons vinegar

2 tablespoons fresh orange juice

2 tablespoons lime juice

5 lbs pork shoulder, bone and skin removed and cut into 2-inch cubes

3 onions

1/3 cup vegetable broth or 1/3 cup chicken broth
Directions
In a large bowl, combine the garlic, salt, oregano, cumin, black pepper, chili pepper, crumbled bay leaves and orange zest.

Stir in the vinegar, orange and lime juices to make a coarse paste.

Add the pork pieces and toss until the pieces are evenly coated with the spice paste.

Set aside to marinate while you finish the other preparations.

Trim and cut the onions lengthwise into 1/4 -inch-thick slices.

Arrange the slices in an even layer on the bottom of the slow cooker insert.

Pour the broth over the onions.

Arrange the pork in an even layer over the onions, pouring over any reserved marinade.

Cover the insert and place it in the slow cooker.

Set the cooker to high heat and cook 4 to 4 1/2 hours until the pork is fork-tender. (8 hours on low).

Remove from heat and crack the lid to allow the mixture to cool slightly.

Gently stir the pork with the onions and serve.