Stuffed Grape Leaves - Warak Einab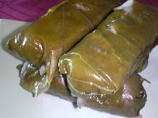 Photo by Sri S.
Prep Time: 30 mins
Total Time: 1 hr
Servings: 4-6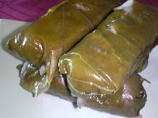 Photo by Sri S.
About This Recipe
"Added for ZWT6: North African/Middle Eastern"
Ingredients
1 1/2 lbs uncooked ground beef or 1 1/2 lbs ground lamb

16 ounces tomato sauce, diced tomatoes or 2 1/2 cups peeled diced tomatoes

2 cups uncooked white rice

1/2 cup fresh parsley, finely chopped

1 tablespoon coriander

1/2 teaspoon salt

1 teaspoon black pepper

2 tablespoons lemon juice

1 (16 ounce) jars grape leaves or 1 lb fresh grape leaves

1 lemon, sliced
Directions
Remove the grape leaves from the jar and soak for a few hours in cold water so they are not too salty.

While the grape leaves are soaking, mix the ground beef, tomato sauce, rice, coriander, parsley, salt, pepper, and lemon juice. The mixing is best done with your hands.

Cover and place in the refrigerator until ready to stuff the leaves.

When the grape leaves have soaked for long enough, drain them and and dry with paper towels. Remove the stems and place shiny side down.

Put approximately 1 tbsp of the meat mixture towards the bottom of the leaf. Fold in sides, and roll together firmly, but leaving a bit of room for the rice to expand. Continue until all leaves are stuffed.

Place the bundles in the bottom of a dutch oven side-by-side in circular layers. Place two lemon slices between the layers of bundles.

Put a weight, such as a ceramic plate, on top of the grape leaves to prevent them from moving.

Fill the pot with enough water to cover the leaves.

Simmer and cook on low for 30 minutes, or until rice is done.

When the rice is done, remove the bundles from the pot and serve.