Lentil Salad With Cucumbers, Tomatoes and Baby Spinach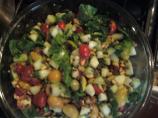 Photo by mmjj_d
Prep Time: 30 mins
Total Time: 50 mins
Serves: 4, Yield: 4 1/2 cup servings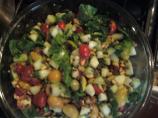 Photo by mmjj_d
About This Recipe
"Tasty and filling salad. You can adapt it in many ways - using zucchini instead of cucumbers, arugula instead of spinach etc. I like to add a combination of yellow and red (grape or cherry) tomatoes"
Ingredients
1 cucumber, sliced and cut in quarters

1 1/2 teaspoons salt

1 cup lentils

3 tablespoons finely chopped chives

1 garlic clove, minced

2 tablespoons olive oil, plus more as needed

1/8 teaspoon fresh ground black pepper, plus more to taste

1/2 lb cherry tomatoes, cut in half

1 small onion, diced

1/2 lemon, juice of

1/2 cup torn baby spinach leaves

2 tablespoons toasted pine nuts
Directions
Rinse the lentils under running water and add them to a large pot of rapidly boiling salted water. Return to a simmer and cook until they are tender, 20 to 30 minutes. Drain the lentils, rinse under running water to stop the cooking and let them cool.

Stir the lentils, chives and garlic together in a large bowl with 2 tablespoons olive oil. Season with with 1/2 teaspoon salt and one-eighth teaspoon pepper.

Stir in the cucumber, cherry tomatoes, onion and lemon juice. Gently fold in baby spinach. Add just enough olive oil to moisten the baby spinach (you may not need to add any). Stir in the pine nuts and season with more salt and pepper to taste. Serve at room temperature.