Five-Spice Moroccan Coucous Salad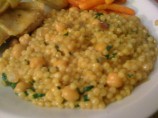 Photo by EmmyDuckie
Prep Time: 15 mins
Total Time: 30 mins
Servings: 4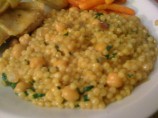 Photo by EmmyDuckie
About This Recipe
"Heady Moroccan spices add an exotic touch to this colourful salad bursting with flavour."
Ingredients
1/4 cup peanut oil

1/4 teaspoon turmeric

1/4 teaspoon ground cinnamon

1/4 teaspoon ground ginger

1/4 teaspoon ground cumin

1/4 teaspoon cayenne pepper

1 1/2 cups instant couscous

2 1/2 cups vegetable stock ( or water)

2 tablespoons orange juice

1 teaspoon brown sugar

salt ( to taste)

415 g can chickpeas

1 small red onion, finely chopped

1/2 large red capsicum, seeded and cut into 1/4 inch pieces

1/3 cup dates, pitted and chopped

1/4 cup raisins

2 tablespoons minced fresh coriander

2 tablespoons unsalted peanuts, for garnish ( chopped)
Directions
Heat 1 tbs of the peanut oil in a saucepan over medium heat. Add the turmeric, cinnamon, ginger, cumin, cayenne and couscous. Cook, stirring until fragrant, about 2 minutes, being careful not to burn. Stir in the stock and bring to a boil. Reduce the heat to very low, cover and cook until all liquid is absorbed, about 5 minutes. Remove from the heat and let stand for 5 minutes.

Transfer the couscous to a large serving bowl, using a fork to fluff it up. Set aside.

In a small bowl, combine the remaining 3 tbs of peanut oil, orange juice, brown sugar and salt to taste. Stir to blend well and set aside.

The the couscous, add the chickpeas, onion, capsicum, dates and raisins, Add the dressing and toss gently to combine well. Garnish with coriander and peanuts.