Swedish Meatballs With Secret Ingredient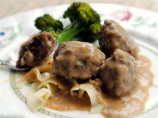 Photo by Andi of Longmeadow Farm
Prep Time: 30 mins
Total Time: 1 hr 30 mins
Serves: 4-6, Yield: 30-40 small meatballs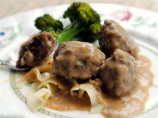 Photo by Andi of Longmeadow Farm
About This Recipe
"When I was growing up there was a chain of Swedish Smorgasbord restaurants in the area which I lived. It wasn't until about 10 years ago that I met the original owner of that chain at a private party in the last remaining restaurant in the chain. He cooked the foods for this party himself with his son who at that time was the manager of that one remaining establishment. One of the dishes that he served, personally to the 20+ persons invited, was his Swedish Meatballs. They were the absolute best tasting meatballs I ever ate. I took him aside and asked him quietly..."is the wonderful taste in these meatballs the fennel seeds in the sauce?" He smiled and whispered back..."yes that is my secret for making the best Swedish meatballs". I came upon a recipe for Swedish Meatballs at Group Recipes.com that sounded so similar to that recipe so I wanted to post this version for the ZWT #6 2010 Scandinavian Region."
Ingredients
1 lb ground pork

1 lb lean ground beef

1 onion ( well minced)

3 eggs

1/2 cup soft breadcrumbs

1/4 teaspoon ground nutmeg

1/4 teaspoon allspice

1 1/2 teaspoons salt

1/2 teaspoon pepper

1 teaspoon Worcestershire sauce

gravy

2 cups beef stock

1 teaspoon fennel seed

salt & pepper

1 tablespoon Kitchen Bouquet ( optional for color)

1/4 cup water

2 tablespoons flour

1/2 cup heavy cream
Directions
Put eggs, spices and minced onion in a bowl, mix it all together.

Add meat, mix well so everything is nicely blended.

Shape small meatballs and brown them on all sides.

Cook over medium heat until liquids run clear of blood.

Add the beef stock, kitchen bouquet, salt and pepper, and fennel seeds and simmer on low heat about 20 minutes.

In a small bowl mix the 1/4 cup of water and the flour well for a thickner.

Add the thickner to the meat stirring constantly.

Cook until the the sauce thickens.

Add the cream and just heat until the cream is blended well and hot.

Be careful not to let it boil or it will curdle the cream.