Prawns Peri Peri Mozambique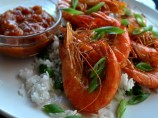 Photo by Zurie
Prep Time: 20 mins
Total Time: 56 mins
Servings: 4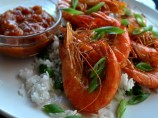 Photo by Zurie
About This Recipe
"Our family vacationed in Mozambique back in the 1960's and my recollection of Prawns Peri Peri was served as 6 deep fried prawns on a bed of savory rice with a side bowl of Peri Peri sauce which was a combination of onions, garlic, chopped tomatoes sauteed in Peri Peri oil."
Ingredients
24 prawns ( twelve count shrimp substitute)

1/4 cup extra virgin olive oil

4 cups of cooked savory rice

2 tablespoons peri peri oil ( Palm oil infused with hot red peppers for at least 1 week)

2 medium onions, chopped

6 garlic cloves, chopped

4 large ripe tomatoes, diced

salt and pepper

2 cups frozen sweet peas
Directions
Prepare Peri Peri sauce first, by sauteeing onion and garlic in Peri Peri oil until soft, then add diced tomatoes, stir to combine and simmer for 20 minutes on low heat, covered. After 20 minutes adjust seasoning with salt and pepper. Remove from heat and keep warm. Reheat rice over a colander of boiling water, adding frozen sweet green peas 5 minutes before service.

Bring olive oil to a hot smoke temperature and in batches fry the prawns until crisp, but not over done, about 4 minutes. Remove batches to paper towel and keep hot.

Serve 6 prawns over savory rice per person and pass bowl of Peri Peri sauce to spoon over prawns. Prawns traditionally eaten shell on with fingers, and crispy heads sucked for flavor.