Old Recipe for Danish Stew (Stuvet Oksekød)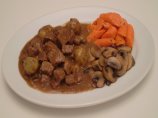 Photo by TasteTester
Prep Time: 3 hrs
Total Time: 3 hrs
Servings: 6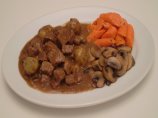 Photo by TasteTester
About This Recipe
"My mother collected cookbooks like you or I collect tunes for our MP3s. She recently passed away, and I was going through some of her collection, just to feel close to her again. Low and behold, I found this wonderful book called "Wonderful, Wonderful Danish Cooking" by Ingeborg Dahl Jensen (with an introduction by Victor Borge!) published in 1965. This is one of the recipes I found to post for ZWT 6."
Ingredients
3 tablespoons butter

2 onions, chopped

1 cup flour

2 cups beef broth or 2 cups beef stock

2 1/2 lbs top round steaks or 2 1/2 lbs bottom round steaks, cut into small squares

2 tablespoons vinegar

1 teaspoon salt

1/4 teaspoon white pepper

3/4 teaspoon baking powder

1/2 teaspoon salt

1 tablespoon minced parsley

1/4 teaspoon marjoram

1 pinch pepper

3 tablespoons butter

2 tablespoons ice water
Directions
Melt the butter; add onions and brown for 10 minutes over low heat. Add 3 T. of the flour, stirring until smooth. Slowly add the broth or stock, stirring until the mixture comes to the boiling point.

Place the meat in a heavy skillet and sprinkle with the vinegar. Add the prepared sauce, 1 t. salt, the 1/4 t. of white pepper, and mix well. Cover and cook over low heat for 2 hours.

Sift the baking powder, remaining flour and 1/2 t. salt in a bowl. Add parsley, marjoram, and pepper; mix well. Cut in the butter, add the ice water and toss lightly until a ball of dough is formed.

Shape into small balls and drop into the kettle of stew, replace the lid, and continue to cook over low heat for 35 more minutes.

Arrange the meat on a platter with the dumplings around it. Pour the liquid from the skillet over all and serve.