Southwestern Quinoa Burrito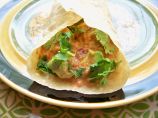 Photo by Prose
Prep Time: 10 mins
Total Time: 30 mins
Servings: 4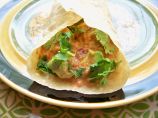 Photo by Prose
About This Recipe
"Breakfast, lunch, or dinner! This tasty blend of quinoa stuffed in a tortilla and topped with a zesty southwestern sauce and avocados is sure to fill you up! Packed with protien & its even cheezy!! Feel free to add even more veggies - onions, bell peppers."
Ingredients
1 cup quinoa ( remove saponins if your quinoa did not come clean of this)

2 cups vegetable broth

1 cup cooked red kidney beans ( or canned, drained & rinsed)

1/2 cup water

1/2 teaspoon minced garlic ( I used dried)

1/2 cup nutritional yeast

sea salt & freshly ground black pepper, to taste

1/2 cup water

6 tortillas ( depends how full you want them)

avocado, chopped ( for garnish)

Sauce

1/2 cup salsa

1/8-1/4 cup water

1 tablespoon non-dairy mayonnaise

1 teaspoon cumin

1 teaspoon pure maple syrup

1/2 teaspoon lime juice

1/4 teaspoon chili powder
Directions
Add dry, unwashed quinoa to a large dry skillet. Toast until fragrant, stirring occasionally. Add veggie broth and bring to a boil. Cover, lower heat, and simmer until tender (about 15 minutes).

Add beans, water, garlic, nutritional yeast, salt & pepper. Cover, and heat over low flame until beans are warmed through. Add more water if needed to keep the quinoa from sticking.

In an oven or toaster oven, lightly toast 2 tortillas until warm and slightly crispy.

Make the sauce: Add all sauce ingredients to a blender and process until sauce is smooth.

Plate. Divide quinoa/bean mixture in half, and place half the filling inside each tortilla. Roll up or fold tortillas in half. Drizzle with southwestern sauce and chopped avocados.