Balsamic Chicken With Spinach and Fresh Tomato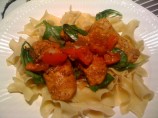 Photo by Emily Han
Prep Time: 10 mins
Total Time: 30 mins
Servings: 2-4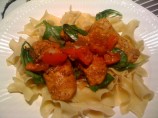 Photo by Emily Han
About This Recipe
"Fresh & easy, tweak as you like. As mentioned below, I serve it over egg noodles. Recipe from Check Your Health courtesy of Chef Bryan Wolley."
Ingredients
4 (6 ounce) chicken breasts

3 garlic cloves, minced

1/2 onion, diced

2 cups fresh tomatoes, diced

1/4 cup balsamic vinegar

1/4 cup white wine

4 cups spinach, washed and dried

1 teaspoon basil, dried

extra virgin olive oil, for pan

salt and pepper, to taste
Directions
Heat a large skillet and coat the bottom with just enough olive oil (about 2 Tbsp).

Saute garlic, dried basil, and onion until fragrant.

Flatten chicken breasts to 1/2 inch thick. Sprinkle with salt and pepper, sesar each breast side for about 6 minutes or until done.

When you have about 5 minutes left, add the tomatoes, vinegar and wine.

Allow to cook down for last 5 minutes.

Place a cup of spinach onto a plate, followed by the tomato reduction and then top off with the chicken.

Alternatively, toss spinach in the pan and stir for a minute or two, and serve skillet contents on top of egg noodles (our favorite way to eat it!).